We're back with the next interview in our Working at Shocklogic series! Our HR Coordinator/PA to the CEO, Reshma Rao, has been working with Shocklogic for more than five years!
When did you start working at Shocklogic?
January 2016.
How did you hear about Shocklogic?
I met John Martinez, the CEO of Shocklogic, at Landmark, a personal development course that we both attended at the same time. He said there was a position available in the company and asked if I knew anyone who would be interested. I applied!
What team do you work for? Tell me a bit more about your relationship with your colleagues.
I'm the PA to the CEO, but I also work within the HR department, and sometimes finance. I love my team, we get on really well, we communicate well, we support each other and we have fun while doing it! I get on really well with John, there is a trust between us, that's why I can look after his tasks. John is very easy to talk to and I can go to him with anything.
Can you describe in one word your experience so far at Shocklogic?
Transformational.
What skills have you developed during your time working at Shocklogic?Communication and leadership.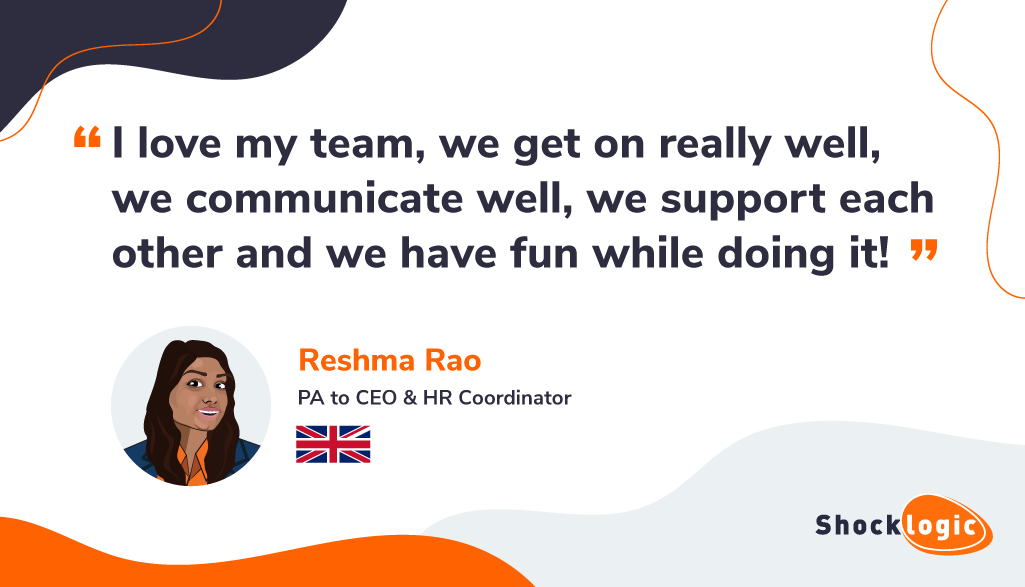 What is the best part of your job?
The interactions with my colleagues. As I just mentioned, I really love working with my team because we get to learn something new from each other every day.
What is special about the company culture and values?
That we are all one big team that separate out into smaller teams, but truly supportive teams. We're always there for each other, no matter which team is asking, and we all grow together.
Curious what other team members have to say about working at Shocklogic? Check out our previous interviews with Alexia Garcia, Simon J Colmenares, and Elvira Roger. We will also be hearing from another team member shortly, so stay tuned!