You've probably heard it from us before: our team is our greatest source of pride.
We talk a lot about how vibrant, diverse, and unstoppable we are, about how we consider ourselves a family and how important it is to us to create an environment where every voice is heard and every opinion counts.
We don't mind being a broken record on this point, but this time, we thought we'd let the team tell it for themselves.
Welcome to our new interview series. We've asked some of our colleagues to describe their experience working at Shocklogic.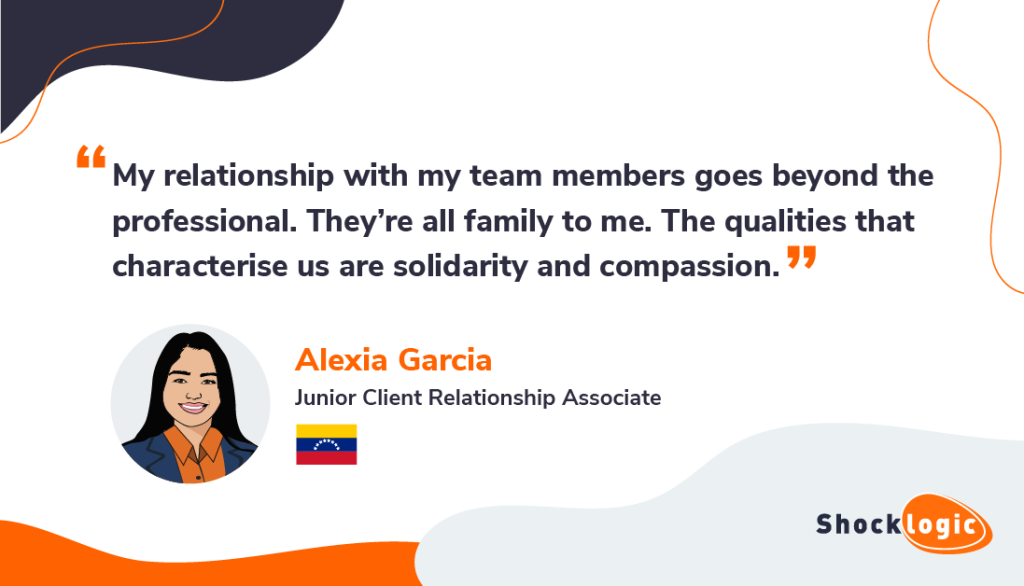 Alexia Garcia is a Junior Client Relationship Associate who has been working with us for more than four years.
How did you hear about Shocklogic?
I heard about Shocklogic through my father, Leo Garcia, who was already working for the company as a Regional Manager. Four years ago, Johnny D. Martinez, Head of Marketing & Business Development at Shocklogic, came to Venezuela to do a workshop for the team and I was invited too. We got along really well, and I remember that one of his questions was "What is your favourite Shocklogic product?". I replied "mobile app". Shortly afterward, I started working on the Client Accounts Team to deliver mobile apps for clients.
Can you describe in one word your experience so far at Shocklogic?
Only one word? Well, I think that would definitely be passion.
What is the best part of your job?
My favourite part is being part of a multicultural company. There's always something to learn from your teammates, especially because our company is so diverse. From the Americas to the other side of the world in Europe and Asia, I get to learn something new each day.
What kind of skills have you been developing?
Communication, adaptability, and problem solving. I've become a better communicator both in terms of language proficiency and the way I communicate with my team and clients. As a Client Accounts Team member who works closely with clients, you realise that everyone is so different, so it's important to adapt based on everyone's unique needs. My adaptability has improved, especially during the pandemic!
Tell us a bit more about your relationship with your colleagues…
My relationship with my team members goes beyond the professional. They're all family to me. The qualities that characterise us are solidarity and compassion. You can count on anyone from the team, and that's an amazing feeling. When I'm doing a task, I have 20 more pairs of eyes making sure that I'm doing the right thing by supporting me and always being there to help.
Stay tuned for the next interview in our series to hear about more team member experiences!