THE CLIENT
The Society for Cardiothoracic Surgery (SCTS) is the representative body for cardiothoracic surgery in Great Britain and Ireland. The organisation's primary purpose is to continuously improve the quality of the cardiothoracic healthcare delivered to patients by promoting scientific advancement and knowledge sharing within the field.
SCTS has been a valued Shocklogic client for several years. You can read our previous case study on our support of their 2021 Virtual Annual Meeting here.
THE EVENT
The SCTS Annual Meeting 2022 was a hybrid event that took place from 8-10 May at the ICC Belfast and online. It brought together hundreds of surgeons and medical professionals from across the globe for an industry exhibition, keynote talks from international speakers, abstract presentations and more.
Out of 1135 total registrations, 884 delegates attended the conference. Of these, 713 (81%) attended the onsite event in Belfast while 171 (19%) attended remotely.
WHAT WE PROVIDED
From registration to post-event support, SCTS took advantage of Shocklogic's full range of products and services to deliver both the onsite and virtual components of the conference. Five Shocklogic team members travelled to Belfast to provide comprehensive onsite support, while a separate dedicated team supported the virtual side of the event remotely.
Here is a detailed breakdown of the solutions we provided for the SCTS 2022 Annual Meeting: 
Registration management software
Registration form set up
Payment gateway integration
Registration support
Integration with SCTS membership system
Processing of 1135 registrations for SCTS members and non-members, with 6 professional registration categories
Joining instructions for attendees, speakers, and chairs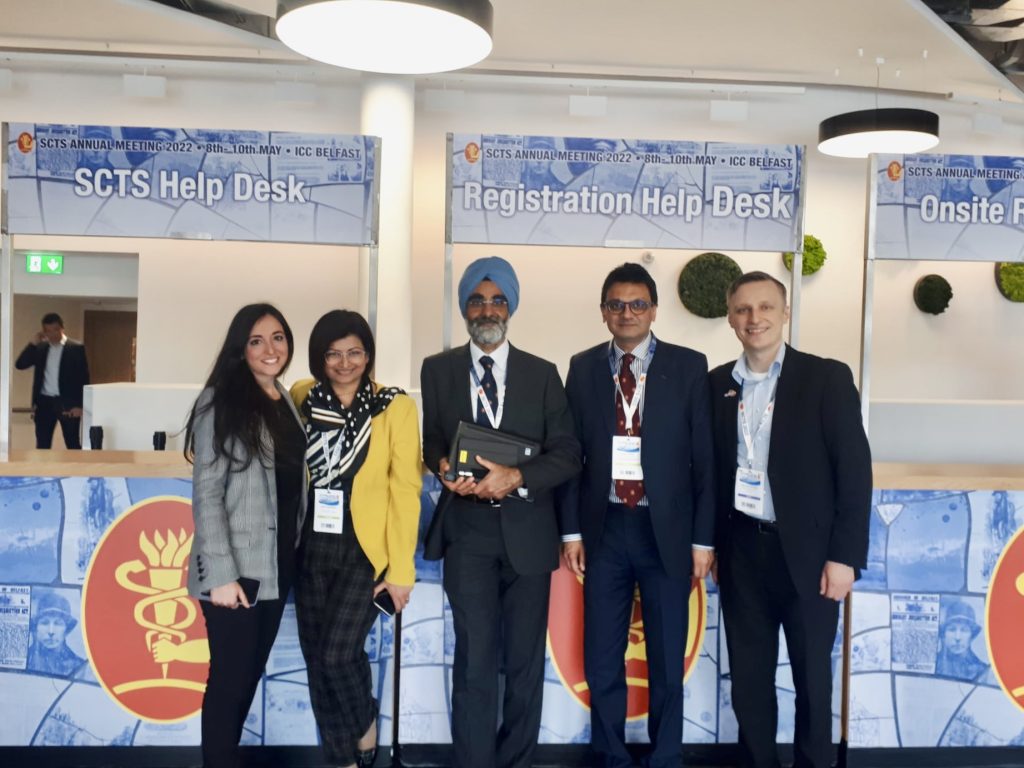 Abstract management software
Profile area for all scientific roles with a single point of entry for all needs
Extensive communication with and support for presenters from abstract acceptance email to certificate of presentation
Programme management software
Importing of all sessions/presentations and faculty members to the system, including updates and changes
Sending of relevant emails to all presenters
Assigning of all speakers and chairs to their relevant sessions
Rehearsals for virtual speakers and chairs
Hybrid event consultancy
Liaison with venue and AV supplier
Identification of virtual platform tools that would meet the event's specific needs
Pre-onsite testing and rehearsals with the AV supplier
Support for multiple video streams
Video editing
A bespoke designed 3D virtual platform including a second lobby area to access individual meeting roomsAn additional bespoke meeting room for 'Industry webinars'
Fully featured interactive programme

Intuitive display of 8 parallel sessions by room and by date
Abstract body images along with bios and photos of faculty members

Faculty page including bios, photos, and direct session links
Customised FAQ section
Design and implementation of a scavenger hunt feature
Help desk and live support area
Sponsor/exhibitor information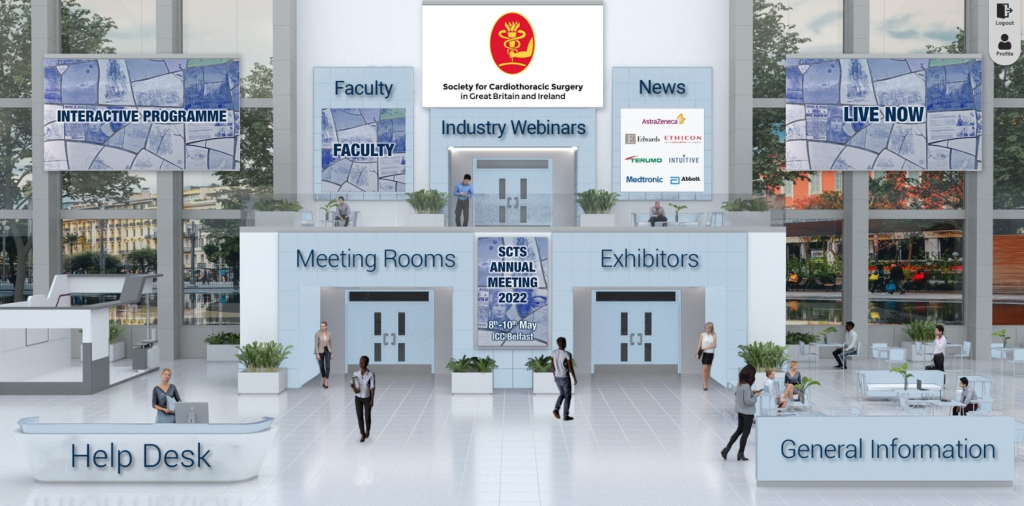 The mobile app we delivered for this event included the following modules:

Programme: All talks and sessions organised by day, topic, session type, room
Speakers: Bios, photos, country, talk/session descriptions
Exhibitors: Exhibitor information, contact details, and floor plan
Q&A
Networking
Scavenger hunt
Abstract presenters
General information
Push notifications
Conference news
Visit Belfast
About SCTS
Exhibitor lead retrieval
Leadlogic lead retrieval mobile app
Management of lead retrievals and licence hire
Guidance for exhibitors on making the best use of Leadlogic
Data reports
Pre-event support
Creation of intro slides for live sessions
Creation of badge template
Creation of e-ticket template and joining instructions
Pre-printing of badges for speakers and exhibitors
Sending and monitoring e-tickets and joining instructions
Liaison with badge supplier and ordering of physical badges
Live-online virtual event support
Runsheet: Minute-to-minute management of the live-online event and all sessions
Dedicated support team: 2 staff members in every virtual session at any given time; 1 staff member in charge of support, login chat, and helpdesk; 1 coordinator
Coordination with live sessions onsite during event
Onsite support
Setup of registration/self-registration areas prior to event
Crowd management
Point of contact for delegate queries and technical enquiries by congress staff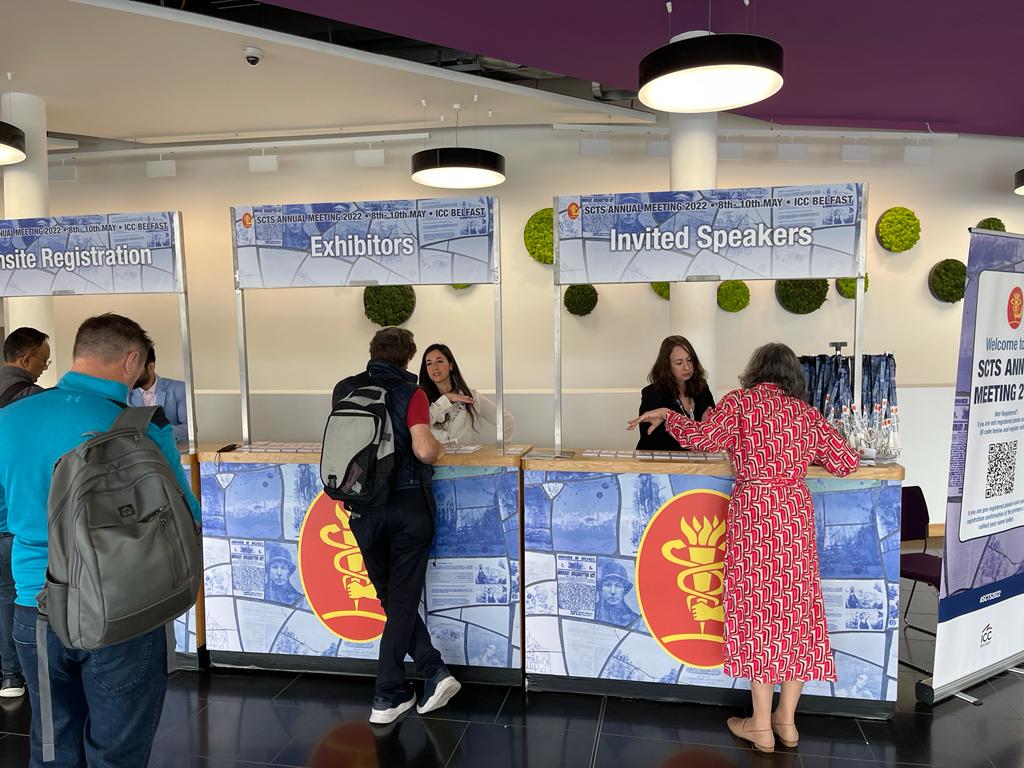 Post-event support
Certificates of attendance and certificates for abstract/poster presenters
Continued on-demand access to platform
Preparation/editing of all session videos for on-demand access
Uploading of videos to the event's YouTube channel
Follow-up on relevant queries, questions, and reporting
RESULTS
Both the client and the Shocklogic team were thrilled with the success of this complex, large-scale, hybrid event. We received enthusiastic feedback from everyone involved, and the SCTS team was especially impressed with the speed and efficiency of the onsite registration process.
We have already signed on to support SCTS's next annual meeting, which will be held in March of 2023 at the ICC Birmingham, and look forward to continuing our wonderful relationship with this organisation.