Happy New Year from the Shocklogic team! We love the sense of hope and possibility that welcoming a new year brings, and we would like to send you our warmest wishes for the one ahead. We hope 2022 brings you joy, growth, success, and above all, health.
With nothing but excitement for the coming year, we'd also like to take the opportunity to share a couple of our latest developments.
We've updated the naming structure of our virtual platforms
Shocklogic has been supporting virtual and hybrid events for nearly 10 years. If you've heard us talk about our virtual products in the past, you might notice some changes to our lingo going forward.
Our 'Standard', 'Enhanced', and 'Advanced' virtual experiences have now been consolidated under two headings: our 2D platforms create an intuitive online event experience that looks like a traditional webpage, while our 3D platforms simulate the look and feel of live event spaces.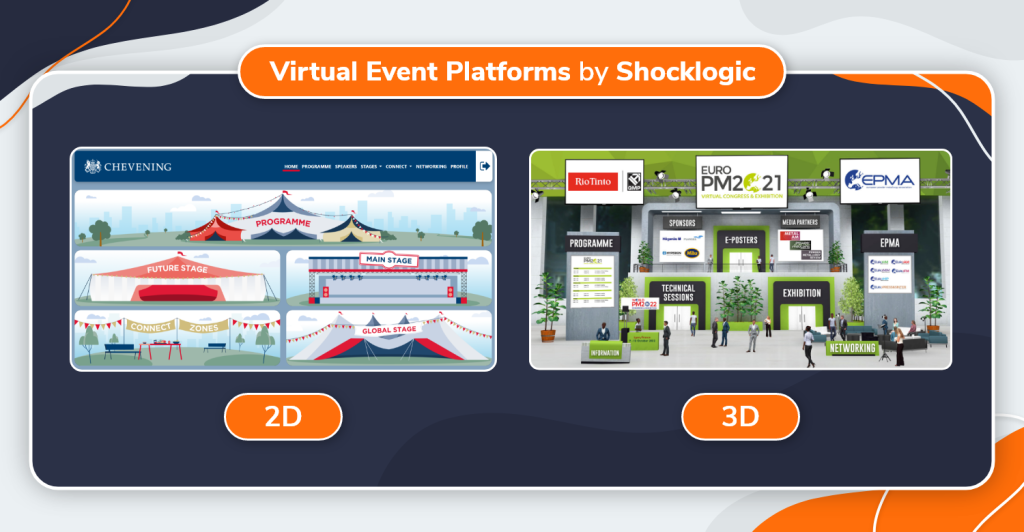 Exhibition eStands showcase
Following the launch of our new logo and website in May of last year, we have continued to make updates to shocklogic.com to show off the work that we are so proud to do.
One of our latest additions is a product page dedicated to our Exhibition eStands which showcases our range of 2D and 3D designs for virtual booths, exhibition halls, and hospitality suites. All of our options are fully interactive and include customised branding, a variety of multimedia widgets, and click analytics.