The client
The International Society of Aesthetic Plastic Surgery (ISAPS) is the world's leading professional body for board-certified aesthetic plastic surgeons. The organisation's membership includes the world's most well-respected reconstructive and aesthetic plastic surgeons in 113 countries.
The organisation is a new client for Shocklogic. However, we have a long-standing relationship with ISAPS' Executive Director through a different medical society.
The event
The ISAPS World Congress, which ran from 11-13 September 2021, featured lectures and discussions on the latest advances in aesthetic plastic surgery, including facial rejuvenation, regenerative medicine, and salvage procedures after failed aesthetic surgery.
The event was a large-scale hybrid congress featuring 169 speakers, 75 abstracts, 41 ePosters, 68 total sessions, and 42 exhibitors. There were 1,173 total registrations, and participants hailed from 91 different countries.
What we provided
We had a short planning lead time for this event due to the late reinstatement of this Congress around COVID-19. We were happy to be able to step in and work flexibly to support the client to achieve a successful event at short notice.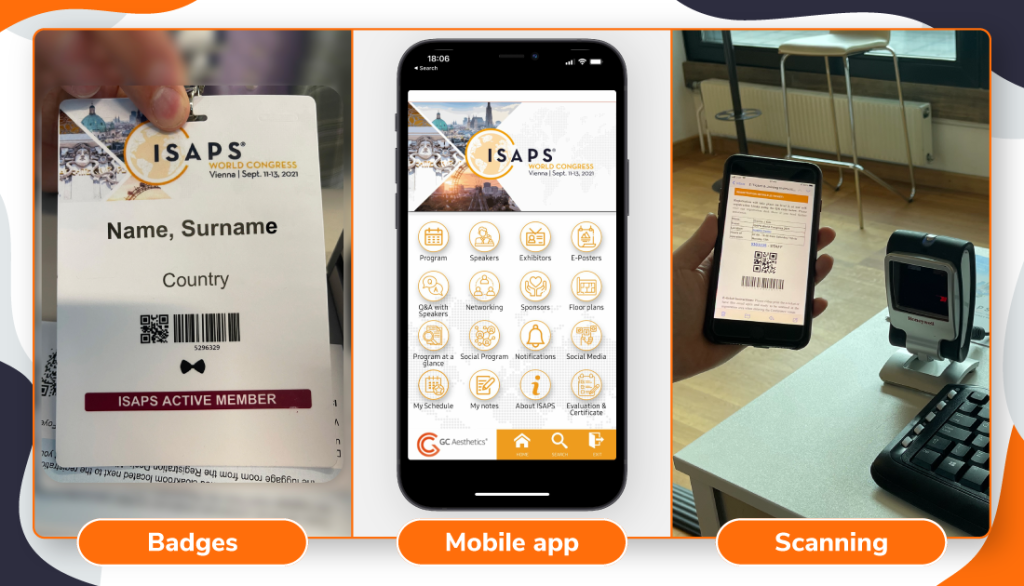 The solutions we provided for the conference included:
API-integration with the client's registration software
Badge printing via paperless e-tickets
Scanning and attendance tracking
CME credits and certificates of attendance
Bespoke mobile app
Exhibitor lead tracking
Surveys
The project involved 13 members of the Shocklogic team, 6 of whom travelled to Vienna to support the live event and run the onsite registration desks. John, Gianna, Elvis, and Efrat travelled from London, Natalia travelled from Lyon, France, and Ariel travelled from Cordoba, Spain.
The whole team loved supporting this event and was thrilled to build a great relationship with this new client.
We received the following testimonial Sarah Johnson, Executive Director of ISAPS:
'It was great working with the Shocklogic team to deliver ISAPS' first hybrid event, and our first live meeting since the pandemic. Their solutions-focused approach added a very welcome layer of assurance to our planning process in challenging times. As always John and his team offered a fantastic on-site service: always available, flexible and responsive, and really working as part of our ISAPS team. Thank you Shocklogic!'.
For more information about this event, you can watch our video case study here!