The client
Chevening is a UK government programme aimed at helping to develop global leaders by awarding scholarships and fellowships to promising international students who wish to study in the UK. Since 1983, the programme has funded over 50,000 international scholars.
Shocklogic has been supporting Chevening events since 2016 with various solutions including registration and badges, access control scanning, and onsite event staffing. In June of 2021, we also supported their first virtual conference.
The event
Chevening Summer Connect 2021, held on 22 July, was an online festival event to bid farewell to the 2020 cohort of scholars. The networking-focused conference included talks and interactive sessions during which the students said goodbye to mentors and friends, received final words of advice, and built plans for the future.
With 1,606 registrations, 96 speakers, and 7 parallel sessions running simultaneously throughout the main day event, the conference was a large-scale endeavour. Six additional regional sessions were held over 4 days, and participants hailed from 111 countries.
What we provided
Participant registration for the conference was carried out using Shocklogic's registration software. 
The event's bespoke virtual platform, featuring a colourful, festival-esque motif, was designed by Shocklogic's design virtuosos and built by Shocklogic's computer geeks.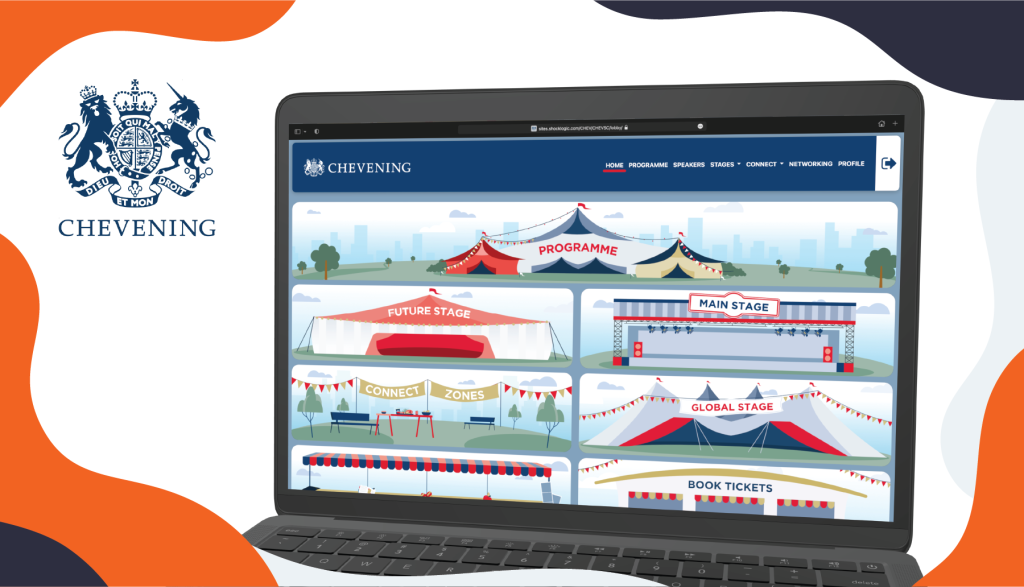 It's capabilities included:
Detailed participant profiles
List of registered attendees
An interactive programme
Live-streamed sessions on multiple stages
Dedicated networking rooms
Group chat and 1-2-1 meetings
Access to technical support
The project involved 27 members of the Shocklogic team, who also provided dedicated live event support, including webinar platform training for all speakers, session monitoring and time-keeping, and a tech support help desk.