On Tuesday 28th March 2023, the Shocklogic team attended the Meetings & Events Support Association (MESA) Monthly Meeting on the topic of "Fuel.Ignite.Accelerate – The Future of Conferencing".
Gordon Glenister moderated the session, and Patrick Delaney, Michael Jackson and Bev Hancock were the invited speakers.
Our top takeaways from the session were:
Events require less "blah" and more "aha" to drive engagement at conferences. A recent study gathered by ChatGPT explained that delegates are not engaged due to a lack of novelty, poor speaker selection, inappropriate agendas, insufficient organisation and planning, limited interaction, and not enough time for networking.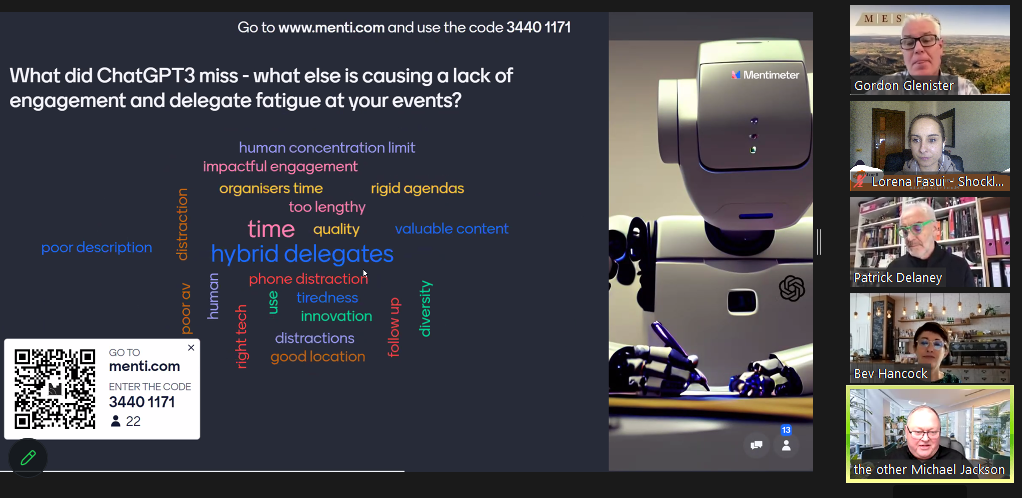 Developing a successful event requires both logic & emotion. Planners look at the logic (location, price, capacity), delegates are about emotion (experience, food & drink,) and venues try to promote themselves as unique (which most simply are not). So, to plan for a better experience, we need to ask 5 simple questions:
For planners: What do you want your event to achieve? Who is the event aimed at?
For delegates: What do delegates currently think and feel? What response needs to be generated?
For venues: How can we help planners and delegates achieve their goals?
It's also crucial to ensure there is an impact before, during and after the event, and to consider how we can:
Fuel curiosity and participation.
Ignite dialogue, strategic thinking and engagement.
Accelerate actionable takeaway value.
Here a few ideas:
Send videos before the event to engage delegates and ignite their curiosity.
During networking breaks, try to provide a topic for delegates to discuss as this will help increase interaction.
Organisers must have a strategic focus and the courage to make changes. We should implement a new approach to conferencing: where delegates come prepared, are able to actively participate in the event, and leave with the knowledge and skills that will have a real impact on their business.
Don't ask the questions you know the answers to already. Ask the questions you don't know the answer to!
We look forward to next month's meeting. To find out how you can become a MESA member, check out their website.