Since the beginning of the pandemic in early 2020, virtual events have taken the lead over all other meeting modes. However, as time has passed, the balance has shifted again, this time towards hybrid events, which seem set to dominate the market going forward.
We discussed this trend in our previous article: Getting back to live events in the UK: what to expect. Now we'd like to dig a bit deeper and, in the process, share with you some of our team members' thoughts on making the most of virtual and hybrid events.
Organisers or attendees: who gets the biggest slice of the cake?
There is a lot of debate about who benefits most from hybrid events, but at Shocklogic we don't see hybrid events as 'a cake to be divided' between organisers and attendees. Instead, they represent different, new, and above all tasty treats for everyone involved.
Here are some of the key benefits for hybrid event organisers:
Suits multiple preferences: The most important thing to consider is attendee experience, so offering two ways to participate in an event is an aspect they will appreciate.
Reach a wider audience: Providing the option to enjoy the event both in person and online can also help you to increase overall attendance. This means you can reach people and places you might never have thought would be able to attend your event! In addition, you can offer recorded sessions on-demand, even after the event has finished, so attendees can watch later. This helps to ensure each session reaches everyone who wishes to view it.
Maximise your return on investment: Increased attendance and reach can also have a positive impact on ROI. This is doubly true if your decision to go hybrid means you reduce the size of the physical side of your event. Reducing travel, hospitality, and venue hire costs, combined with maximising overall attendance and sponsorship opportunities, can create a win-win scenario when it comes to getting the most out of your investment.
Increased flexibility: Organisers should take advantage of the 'limitless' opportunities hybrid events offer. This is the sentiment expressed by Gaston Ciganda, one of our Client Relationship Coordinators: "The best thing about hybrid events is the possibility to continue the event under any circumstances. How flexible and large they can be is infinite. The situation has led us to intensify the development of virtual platforms, and we realised they are limitless!"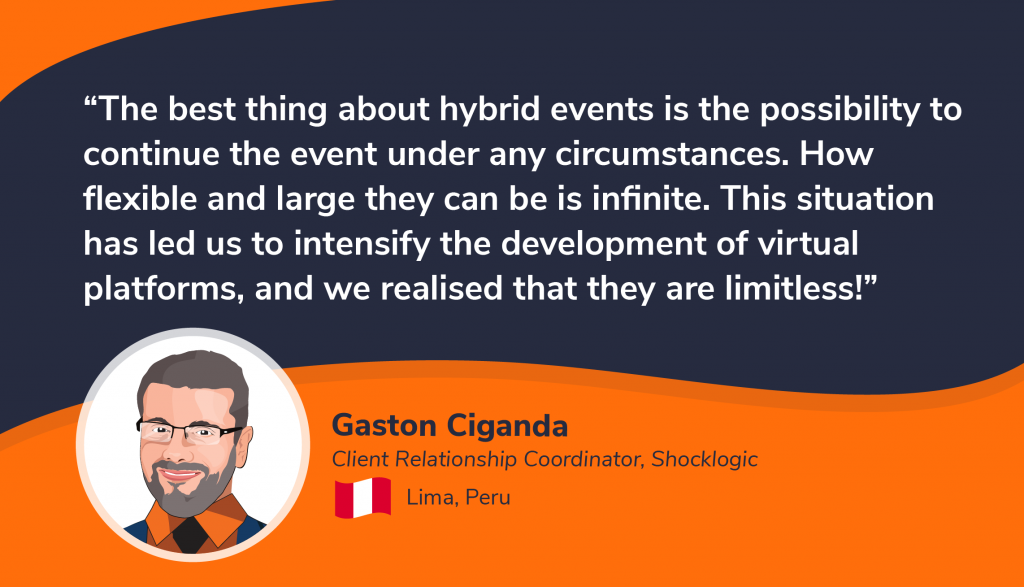 The benefits of hybrid events for attendees are equally impressive:
Have more opportunities to connect: Meeting face-to-face at events is finally becoming a reality in some places again for those who want and need it. However, restrictions and individual comfort levels continue to vary. A key advantage of hybrid event tech is that distance is no barrier for networking. The virtual platform and an integrated mobile app create multiple ways for remote and onsite participants to connect with both the event itself and one another.
Be kinder to your wallet: Having a virtual option helps to ensure the event fits everyone's budget. Depending on how much an attendee wants to participate and what they can afford, hybrid events provide the freedom to choose the option that works best.
Always be on time: Two exciting sessions scheduled at the same time? No more difficult decisions and missing out. Marisol Moreno, one of our Client Relationship Associates, notes that "hybrid events are flexible and malleable. You can expand the horizon in terms of the range of knowledge and time, for people to enjoy the sessions they want, when they want".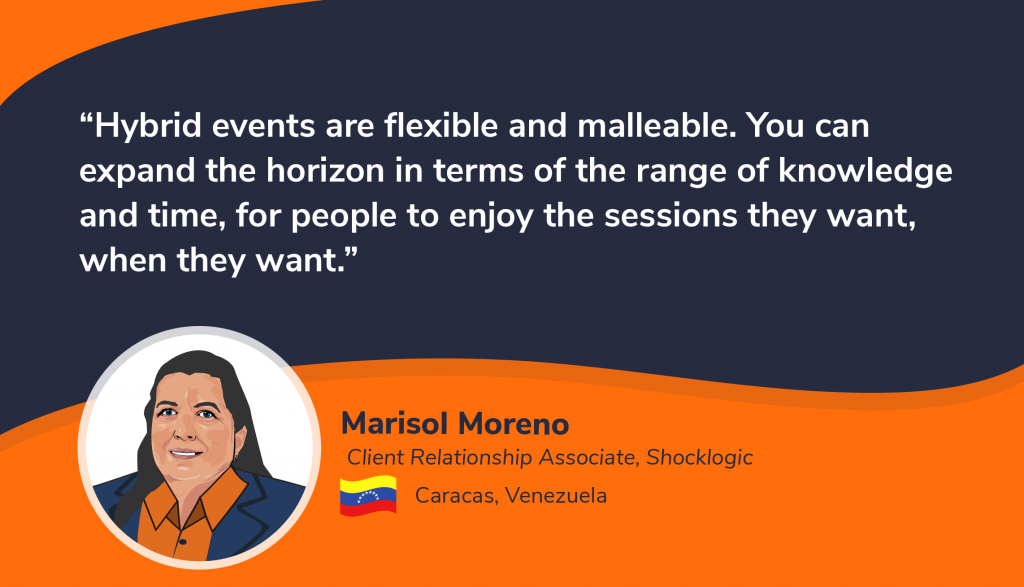 Still not convinced? Here are some final words from the Shocklogic team.
"There should be no 'one-size-fits-all' mentality – every event is different and unique. We should make no assumptions and understand that this is the perfect time to ask our communities what they want the experience to be."
Johnny D. Martinez, Head of Marketing & Business Development
"Effective communication is key at virtual and hybrid events. Distance is a challenge that we have to overcome by being more receptive. We have to put ourselves in everyone's shoes in order to achieve the satisfaction of all attendees."
Diana Zarate, Senior Client Relationship Coordinator
"Embrace the possibilities! Virtual events have evolved incredibly rapidly over the last year; this is exciting stuff! We need open minds to fully develop the potential of what we can do with this format and continue learning to exploit it for the benefit of every stakeholder."
Angie Harms, Copywriter/Proofreader
If you'd like to learn more about Shocklogic's hybrid event solutions, you can find an overview of what we have to offer here.
Still have questions or ready to take the plunge? We'd love to schedule a demo!
You can also check out our new success stories page featuring case studies on the events we've recently supported!
Written by Samuel Peña, Marketing Associate and Angie Harms, Copywriter/Proofreader